The European Cybersecurity Competence Centre – One More Step towards Supranationalism
Abstract
The evolution of the European Union has been influenced by many social, economic, technological, political or even climate factors since its creation in 1957. The supranational character of the Union has been questioned over the years by many authors focused on the study of European integration due to the changes that occurred within the EU. Over the last century, the rapid pace of technology development, especially digitalization, directly influenced EU and the integration theories related to it. The COVID-19 pandemic showed everyone that digitalization does not represent an option anymore, it is a necessity. In regard to this matter, the European Union adopted over the last years several policies, strategies and normative acts that aim to ensure a higher level of digitalization at EU and Member States level. A key factor in the digital transformation is represented by cybersecurity, therefore, EU took important steps into protecting itself and the Member States from cyber threats: it established specialized institutions, developed two strategies and adopted compulsory normative acts for the Member States. This paper focuses on the new established European Cybersecurity Industrial, Technology and Research Competence Centre, emphasizing its supranational features with the purpose of proving that development of such institutions sustain the supranational theory of European integration, as well as EU's supranational character.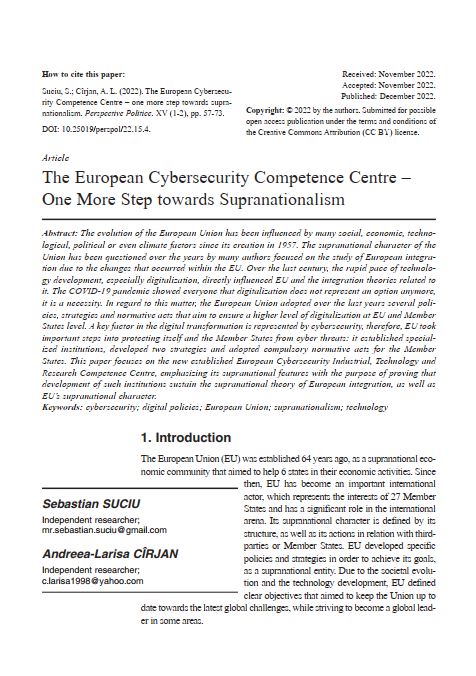 Downloads
License
Copyright (c) 2022 Sebastian SUCIU, Andreea-Larisa CIRJAN
This work is licensed under a Creative Commons Attribution-NonCommercial-ShareAlike 4.0 International License.